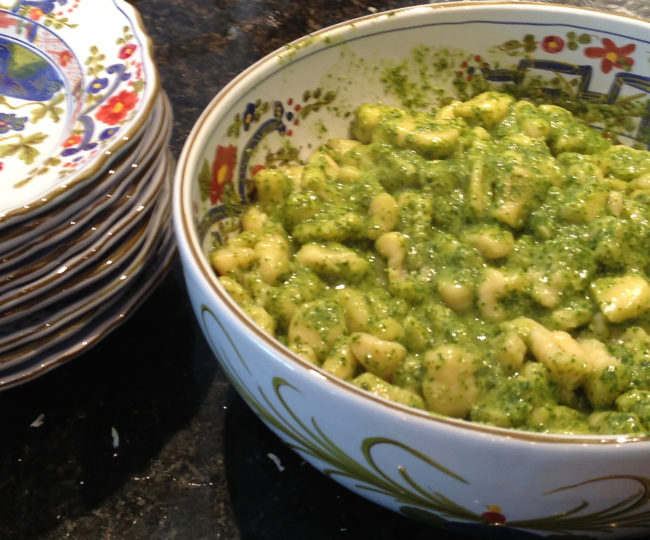 Pesto is a fresh tasting burst of spring in the mouth. Although in Florida basil can be grown throughout the year, our family doesn't have green thumbs. In Spring basil plants are readily available at farmer's markets and cheaper than purchasing the already cut stems. The beauty of pesto is that it is easily freezable which makes it available at anytime. But to me, it is the quintessential spring dish. We tend to eat it in the traditional manner, just the pasta with a few boiled green beans and sliced potatoes and would make a great primo, first dish, during an Easter Feast. For this recipe I made it with dried spaghetti, but it is also wonderful with homemade potato gnocchi, maccheroni alla chitarra (square spaghetti), spaghettini, linguine, and the classic trenette, narrow fettuccine. Easy to put together, it is one of the recipes that the children and I make when Giuliano is traveling. It only takes as much time to prepare as the water takes to boil for the pasta.

The word pesto means "to mash" because originally the ingredients were painstakingly hand processed with a mortar and pestle. Fortunately, since the invention of the food processor, the excruciatingly slow process has become quick and easy. The dish is synonymous with one of my favorite Italian regions, Liguria. Although not on Americans' traditional Italian itinerary, Liguria is a must visit area.
The "fantasy in green" as pesto has been called, when eaten from the local tiny fragrant sweet basil takes on extraordinary undertones that are impossible to replicate.
Liguria is often called the Italian rivera. It is known as an area of relaxation, luxury, and delectable food. Brightly painted towns nestle in the crevices of cliffs that abut the sea. The five cities of the Cinque Terre, are easily accessible by train or by a beautiful walking path; no cars are allowed. We were fortunate to stay in Rapallo one summer and spent the time exploring and eating our way through remote villages. One of our favorite restaurants became Ü Giancu, an incredible place in San Massimo a hamlet near Rapallo. Known for its Ligurian specialities it is also a destination for anyone interested in the art of cartoons. Hanging on its walls are original drawings from some of the world's most celebrated cartoonists. Going to the restaurant serves a feast for both the stomach and the eyes as one can see works by Dik and Chris Browne, Hank Ketcham, Luciano Bottaro, Gary Trudeau, Milton Caniff, Will Eisner; and many, many others. A small mountain road that fits only tiny European cars hugs the mountain side.
Of course, what we Americans would consider a path, is a two lane road that at night has no lights. Italians regularly speed around the turns making for a hair raising drive to and from the restaurant. The drive gets the gestational juices flowing for the meal that awaits. Seasonal delicacies fill the plates and we recommend going with a group so you can have a variety of dishes.
Pesto is also a dish that can made by children. Recently our oldest, twelve-year old Gabriella, had a sleepover. The girls had a wonderful time creating a full multi-course Italian meal for us. They shooed us away from the kitchen and did everything themselves. This was the dish that they created as their primo. After a wonderful meal we were all satiated, it was only then that they presented their surprising bill, instead of payment, they asked that we clean up…
Recipe: Basil Pesto
Summary: Classic Italian Pesto, HOW TO COOK ITALIAN by Giuliano Hazan
Ingredients
1 1/3 cups fresh basil leaves
1 small garlic clove
1/4 cup pine nuts
1 1/4 teaspoons sea salt
1/3 cup extra virgin olive oil
1/4 cup freshly grated Parmigiano-Reggiano
3 tablespoons freshly grated pecorino romano
1 tablespoon plus 1 teaspoon butter
1 pound of dried pasta
Instructions
Rinse the basil leaves and spin dry. Peel the garlic and place it with the basil, pine nuts, salt, and olive oil in a food processor. Run the processor until the mixture is smooth and creamy. Transfer the contents to a mixing bowl and mix in the grated cheeses with a spoon or rubber spatula.
While the pasta you will serve with the pesto is cooking, ad 2 tablespoons of the pasta water and the butter to the pesto and mix well. When the pasta is done, toss it with the pesto and serve at once.
Quick Notes
Pesto can be made ahead of time and frozen for up to 3 months. After adding the cheeses, place the pesto in a freezer container and coat the surface with olive oil before sealing and placing in the freezer. Defrost before adding the pasta water and butter. It is advisable not to use a metal pan.
Cooking time (duration): 15
Diet type: Vegetarian
Number of servings (yield): 4
Meal type: dinner
Culinary tradition: Italian