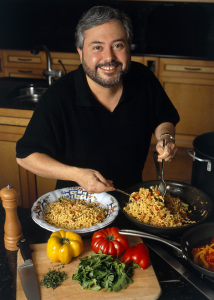 How do you define Giuliano Hazan? Early protégé? American? Italian? Chef? Teacher? Author? Husband? Father? Family man? Talented? Warm? Passionate? Unique? Yes!
Although, there is perhaps one word that sums him up best: Genuine.
Among a multitude of renowned chefs, Giuliano possesses this very special gift in abundance. Without pretense or fanfare, he shares his lifelong love of food – food that is simple and honest, yet incredibly flavorful.
He imparts his skills with great skill, making it look effortless while teaching you to do the same. He delivers it all with warmth, sincerity, and humor.
He empowers you to achieve a level of taste and satisfaction in your cooking you may never have thought possible, making it easy for you to make impressive meals that are consistently and reliably delicious, every time you turn to his recipes.
Giuliano is a delightful dichotomy of old world and new, so inextricably linked, so smoothly blended, you will have difficulty telling them apart. But, why bother?
"Food has an amazing ability to give pleasure. It can give you wonderful pleasures and memories as it brings people together. It can define a whole era of time, a culture, a way of living." –– Giuliano
Giuliano's Story
While some teenagers go to great lengths to be different from their parents, Giuliano Hazan – only son of Marcella Hazan – embraced the idea of following in his mother's footsteps. At the early age of 17, Giuliano began working as assistant at his mother's renowned School of Classic Italian Cooking. He dedicated himself to mastering the simple, genuine flavors of Italian cuisine. Now, more than three decades later, Giuliano is an author, teacher, entrepreneur, and one of the foremost authorities on Italian cooking.
"Italian food does not hem and haw; it asserts itself proudly. If it were a painting, it would not be made of varying shades of beige but of the vibrant colors one sees on the houses in so many Italian towns." —Giuliano Hazan, How to Cook Italian
Author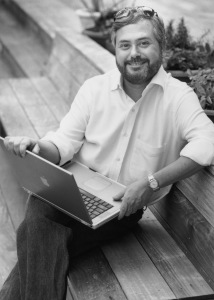 Giuliano began his writing career in 1993 with The Classic Pasta Cookbook, an international bestseller with 500,000 copies in print. Nominated for a coveted James Beard Award, it has been translated into 12 languages. The New York Times said the book offers "just about everything you want to know about pasta and how to prepare it from the Italian perspective." And Marcella, in the book's introduction, said…
"The judiciously balanced flavors of his sauces, his light-handed way with herbs and condiments, the illuminating pairing
of sauce with the most congenial shape and type of pasta…. You will never find Giuliano asking himself what he can do
that is different, but rather, what he can do that tastes good."
In 2000, Giuliano introduced Every Night Italian, a collection of 120 recipes that take no more than 45 minutes to prepare. The book was named "Best Italian Cookbook in the English Language" at the World Cookbook Awards. The New York Times claimed,
"This food is genius — genius distilled from history", and food scientist and author Shirley Corriher said Giuliano "…has
surpassed even his mother's great talent for creating wonderful taste with few ingredients."
His third book, How to Cook Italian, includes 225 recipes and teaches cooks how to create authentic Italian cuisine at home – including sections on kitchen equipment, pantry essentials, and basic Italian cooking techniques. Jacques Pépin called the book "a must for lovers of good cooking."
Acclaimed chef Nobu Matsuhisa said: "Cooks in homes across America will be infected by Giuliano's warmth and passion when they open this book, as I was when I met him over a decade ago."
His next book, Giuliano Hazan's Thirty Minute Pasta: 100 Quick and Easy Recipes, Giuliano shows cooks how to create an inspired Italian meal without spending hours in the kitchen. His repertoire of hearty soups, fresh vegetarian dishes, and meat and seafood sauces can be prepared in the time it takes to boil the water and cook the pasta. Noted author and teacher Patricia Wells said, "He has created a book that is both elegant and totally accessible, with recipes for every season of the year." And Lynne Rossetto Kasper, host of NPR's The Splendid Table, proclaimed:
"In this book, Giuliano Hazan takes pasta down to its simplest, most approachable forms without losing a jot of authenticity. Here's an example of an instinctive cook who has the talent to lead the complete rookie to success.This is the sign of a good teacher and author."
His most recent book is Hazan Family Favorites. Rescued from a fifty-six-year-old notebook and taste memories, this book contains the culinary legacy of America's foremost authority on Italian cooking, his mother, Marcella Hazan, as well as his two grandmothers. Here are 85 recipes for every course in the Italian meal, including Appetizers, Soups, Pastas and Rice, Meats and Seafood, and Sides and Desserts. Epicurious.com remarked:
"This cookbook is filled with fond memories, many of them centered around his grandparents' cooking. It's a loving tribute to the women who have shaped his life."
Teacher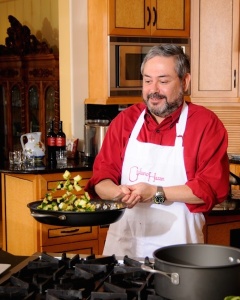 In 2007 Giuliano received the coveted Cooking Teacher of the Year Award from the International Association of Culinary Professionals (IACP), which "honors an individual who demonstrates and effectively communicates an exceptional knowledge of culinary studies and techniques in a vocational, avocational or traveling teacher capacity."
Giuliano was born in the United States, then spent much of his childhood in Italy, where he got his first taste of teaching as a teenager, working at his mother's School of Classic Italian Cooking in Bologna. After completing a B.A. degree at Swarthmore College (Swarthmore, PA), he enrolled in the Trinity Rep Conservatory, a professional theater program in Providence, Rhode Island. During this time – when he was not on stage or at the theater – Giuliano was performing at Peter Kump's New York Cooking School (now the Institute of Culinary Education), where he taught classes on Italian cooking in the early 90's.
By the time Giuliano finished his theater training, he had an unquestionable passion for teaching. He pursued theater work for a time (while operating a gourmet Italian food shop and catering business in Providence), but eventually returned to Bologna, where he served as both teacher and director of his mother's cooking school.
For more than three decades, Giuliano has taught hands-on and demonstration-style courses to sold-out crowds at cooking schools in Europe and the United States. From 1995 to 1999, he led multi-day courses at the legendary Hotel Cipriani in Venice; a particularly memorable class was the one he taught with his mother and acclaimed chef Nobu Matsuhisa. And, in the United States, Giuliano's recent cooking school appearances include Sur La Table, Ramekins, and Central Market.
In 2000, Giuliano and his wife, Lael, inaugurated a cooking school of their own, Cooking with Giuliano Hazan. Each spring and fall, the couple – along with partner, Marilisa Allegrini of the famed Allegrini Winery in Valpolicella – offer culinary and travel enthusiasts a true taste of Italy at Villa Giona, a restored Renaissance villa outside Verona. Their week-long courses promise "total immersion in Italian food, wine, and life" and draw professional and amateur chefs from all over the world. After daily excursions, Giuliano leads a five-hour class during which participants prepare a traditional Italian meal. The group then enjoys the meal – and a number of perfectly paired wines – together, gathered around a large table, in typical Italian fashion.
When asked about her Cooking with Giuliano Hazan experience, a recent guest replied:
"Each morning, I awoke with such eager anticipation for the trip that awaited us that day and the culinary adventure planned for that evening. To be able to cook alongside such a highly regarded professional in the culinary world was humbling without being intimidating…[and] Marilisa was delightful. I felt the unison of introducing the wine with the food was seamlessly orchestrated. I simply loved it all!" —Barbara Zawoysky, Clifton Park, New York
Entrepreneur and Family Man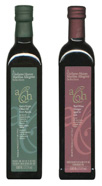 Giuliano and Marilisa have also launched A & H Selections to identify and import "made-in-Italy" food specialties including premium extra virgin olive oil made from prized Ogliarola olives grown in Apulia, and red wine vinegar made in the Valpolicella area near Verona. Single bottles can be found at cybercucina.com or purchase a case of 6 directly from Giuliano here.
Despite his busy schedule, Giuliano is a dedicated husband and father of two girls, Gabriella and Michela. The Hazan family lives in Sarasota, Florida and travels together as much as possible. In fact, when Giuliano and Lael head to Villa Giona each year, the girls travel with them, studying and enjoying all things Italian.