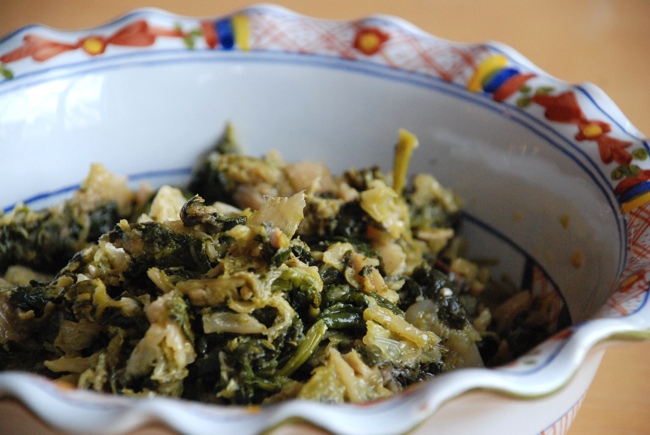 Piadina with sautéed greens is a favorite meal of ours when we visit Cesenatico, the city where Marcella was born and Giuliano spent every summer of his childhood.  Three and four story buildings line the beach of the small seaside vacation town, in the center is one "skyscraper" which elicits excitement from the children every time we see it from the autostrada miles away.  "We are almost there"! They scream in delight.
Cesenatico's beach is miles of sand covered by acres of lounge chairs and beach umbrellas.  Vacationers rent them for the season or for the day.  Many come back to the very same spot on the beach for generations.   The rhythm of the city is slow and predictable: a day at the beach is sometimes broken up by a lunch of exceptionally fresh fried seafood.  The afternoons are spent back at the beach until the sun begins to dip.  Then, when one strolls the main thoroughfare lined with shops full of items one didn't realize one needed.
A fishing village with more bicycles than cars, Cesenatico's historic port was designed by none other than Leonardo Da Vinci.   Replicas of old fishing vessels are displayed at the end of the canal.  The beachfront buildings are mostly art deco but one reminder of the past remains.  The Grand Hotel, fronting the beach, is a reminder of an elegant bi-gone age.  Almost exactly like the one in Rimini, where part of Fellini's movie, Amarcord, was filmed, it still retains a worn elegance with its magnificent staircase carpeted in red in the foyer that greets its modern day guests.
The city has neither roller coasters nor first run movies, however our children beg to visit every time we are in Italy.  Is it pedaling the bicycles built for four?  The pedal boats that one can rent at the beach? Or the fabulous food?  It's a combination.  It is about slowing down and enjoying being together.
When we are there we tend to eat our big meal at lunch.  For dinner, we look for something fairly light.  One of the great traditional foods of the area is piadina.
Usually prepared and served out of a small shack that may have a few plastic tables, piadina is a flat bread that is chewy but tender. Until not very long ago it used to be the everyday bread of Romagna.  It is baked to order on a griddle (traditionally made of terracotta) and served with a variety of salumi, cured meats, and cheeses. One of our favorite toppings is sautéed mixed greens using a combination of mild and slightly bitter greens.  It is both savory and soothing.  Even without piadina, it is a side dish Giuliano often enjoys making.   Made with Savoy cabbage, Swiss chard, and broccoli rabe,  it appeared most recently on our Thanksgiving table.
Sautéed Mixed Greens
Preparation time:  40 minutes
Serves 6 as a side dish
1 pound Swiss chard
8 ounces mustard greens or rappini (broccoli rabe)
1 pound Savoy cabbage
Salt
1 large garlic clove
5 tablespoons extra virgin olive oil
Freshly ground black pepper
1.  Fill a large pot with 4 quarts water, place over high heat, and bring to a boil.
2.  Separate the Swiss chard leaves from the stalks and wash separately in cold water.  Wash the mustard greens.  Cut the Savoy cabbage in quarters.
3.  Add 1 tablespoon salt to the boiling water and put in the Swiss chard stalks.  Cook for 1 minute, then add the leaves.  Cook until the Swiss chard is tender, 4-5 minutes.  Drain in a colander and squeeze out as much water as possible by pressing on the leaves with a spoon.
4.  Refill the pot with water, bring to a boil, add salt, and cook the mustard greens until tender, 5-6 minutes.  Drain well and repeat the process to cook the cabbage.
5.  Coarsely chop all of the vegetables together.
6.  Peel and finely chop the garlic and put it with the olive oil in a 12" skillet over medium heat.  Let the garlic sizzle for a few seconds but do not brown.  Add the vegetables, season with salt and pepper, and sauté, stirring often, for about 15 minutes.  Serve at once.